Bee Removers
Everyone needs a home, including bees although they are inclined to swarm and change homes periodically they may at some point arrive at your home and try to build a hive in an inconvenient place. So unless you are geared up for a swarm of bees to make their home in a hive which you have provided they are seldom a welcome sight.
Buzz bee removers specialises in removing bees. Having bees removed is usually something you want done as soon as possible. We at Buzz Bee Removers are available to remove bees throughout the day. All you need to do is give us a call and arrange for us to come out and do the bee removal for you. We remove bees throught Johannesburg and large parts of Gauteng.
Because your safety and that of your family and colleagues is our number one concern we strongly advise that you do not try to remove the bees or interfere with them in any way, rather leave it to us. We remove bees in:
Give us a call

072 596 8299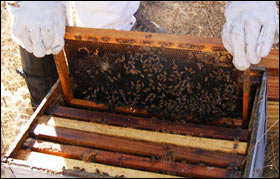 Bees can be dangerous and if you don't know whether you are allergic to them or not it is best to steer clear of them and have the professionals do the bee removal for you.
Why do we remove bees?
The easy solution to an infestation of unwanted bees would be for the homeowner or the gardener to poison them. But there are a number of reasons why this is not the best idea.
1. The main reason is that you run the risk of angering the bees and even though the poison may initially kill a few, chances of you defending yourself with a can of spray when the bees are on the attack are very slim.
2. Your garden depends largely on being pollinated by bees so having them around is important, not only for flowers but also for food production. Granted, most people do not have crops in their back gardens but the impact of a dwindling number of bees worldwide is being felt.
3. When removing bees we also remove any honey and the traces of a honeycomb, and recommend thorough cleaning of the area and where possible closing up of the entrance. Killing the bees might remove the perceived nuisance but then opens the way for scavengers and other insects to infest the same space.
for the best bee removal in Johannesburg get in touch!
Quality Service
We are professional and take the job of removing bees seriously. Having been in the bee removal business for many years we make it our goal to deliver the highest quality service.
We are recommended by our clients for making them feel comfortable and safe before we even start with the job of removing the unwanted bees from the premises. We make sure that all the bees have been removed and advise clients on what to do should the bees return.
Our Code of Conduct
The Bee Removal Association of South Africa have a code of conduct which outlines expected behaviours for bee removers and as companies and as bee removers.
As Buzz Bee Removers we have a set of adherences to abide by. These fall in line with the code of conduct as laid out by BRASA and are inclusive of the following behaviours.
Safety - We place the safety of our clients, their families and our co-workers at the top of our list.
Training - All our bee removers have been trained, and have hands on experience in the safe and effective removal of bees.
Thus resposible behaviour is expected and it should encompass the surroundings and the general public.
Removal over extermination - The survival of bees as a species is incredibly important to us and every effort will be made to remove the colony alive. Extermination is the very last resort and we endeavour to avoid this route at all costs.
Relevant fees - Our fees are dicussed with you when you make the call to have your bee problem removed and therefore should not be altered or determined by the bee remover.
The code of conduct is not a hard and fast set of rules but rather a guide-line to ensure the satisfaction and safety of all parties concerned, including the bees.
Why do bees return?
Sometimes it's just robber bees finishing the leftover honey, which is a good thing, because once the traces of honey have been removed the chances of the bees returning are dramatically decreased. Should the bees in fact return in the space of four weeks we will come and remove them again. Our removal service carries a four week warranty.
What about your property?
Our service also extends to the the manner in which the bees are removed. For example, we know you don't want your house invaded by bees but you don't want it destroyed by us either. Bees usually gain entry to a house via the airbrick because the filter has perished. Sometimes they will make their nest in the brick, and its extremely difficult to get them out. We have mastered the art of getting the bees out and replacing the airbrick quicker than you can say 'remove and repair'. So don't bash any walls down, rather call us to rid you of your bee problem.

We are the reason why, Johannesburg is free of bees!!!!!!!!
How long does it take to remove bees? and What is the cost?
Removing bees generally does not take very long, however the bees may have settle in a place that is awkward or difficult for the bee remover to reach in which case it may take a little bit longer and some creativity on their part. Bee removals costs depend on where the bees are. We try to be as competitive as possible.
Don't spend money on buying various products which you think may help you get rid of the bees. Save yourself from repeated attempts and have the bees removed professionally and completely the first time.
For free bee removal click here
Why do we relocate bees? And where do we relocate them to?
We relocate bees so that they can continue their vital work where it counts the most- on farms. We work with several farmers in a symbiotic relationship- the bees polinate the farmers produce and we keep our bees far from people who could get hurt. Bees are crucial for many crops and poisoning bees is not just illegal in South Africa but it is also unethical.
What is a bee keeper?
The image of a beekeeper has been popularised by the picture of a man in a bulky white suit with a net over his face, and in most instances, he is probably holding a piece of equipment that is smoking. This is not far off and it is the ideal image. Find out more about bee keeping
A bee keeper is the custodian of these tiny creatures that fly about from plant to plant collecting their own food and at the same time ensuring that pollination takes place so that we can harvest fresh fruit and vegetables. It seems that the bee keeper's job is indeed an important one. If his charges do not fly and pollinate for whatever reason, it can be safely said that our meal times will become a rather sombre affair. Find out more about bee keepers
Caring for bees means that the bee keeper will need to ensure that their hive is near sufficient food and water, or the bees will move to a new hive. He needs to ensure that extreme weather does not kill off the colony and that predators are kept at bay. It is also the responsibility of the bee keeper to play doctor should his bees be afflicted by any of the pests and ailments that have been known to affect bees and diminish their numbers.
last updated on 1 February 2016